Registered Waterproofing Contractor Scheme
Sika provides a full range of waterproofing solutions for different requirements in basement construction and refurbishment. With more than 100 years of experience in Structural Waterproofing, Sika is the reliable partner for all of the parties involved in any project. Innovative Sika waterproofing solutions that include both rigid and flexible waterproofing systems, create added value and support for our customers – right from the initial project design and detailing, through to successful installation and completion on site.
To help reduce risk to both specifier and client, Sika has a Registered Waterproofing Contractors Scheme, which is designed to facilitate the selection of suitable contractors to install Sika waterproofing materials. It allows total quality control,from product to service and installation and granting clients complete peace of mind with a complete professional service nationwide.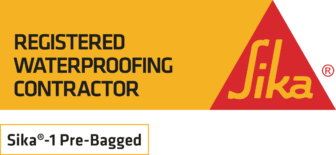 Here's why it's good to become a registered Sika Waterproofing contractor…
Peace of mind for your customers with market leading guarantees
Contractors are often recruited on the basis of previous experience or recommendations, due to a fear of bad workmanship and a heightened awareness of 'cowboy tradesmen'. As a registered Sika Waterproofing contractor you will be eligible to give your customers industry-leading product guarantees on the waterproofing work you do.
Training
In order to become a registered Sika Waterproofing contractor, you have to attend a minimum two-day training course which takes place at the Sika Waterproofing training academy, in Welwyn Garden City, Hertfordshire. Once you have qualified we will continue to invest in your development and skills through monitoring and continual training where necessary, and our specialist waterproofing team will always be available to offer support.
Lead Generation
Sika Waterproofing operates a 'reciprocal business model'. As well as the business that you create for yourself, Sika Waterproofing will also provide opportunities that our registered contractors can tender for. In addition, Sika Waterproofing is often recommended by specifiers, a territory which comes only by association with a market-leading brand.
Marketing Support
We offer marketing support to help your business promote the use of Sika Waterproofing products, such as literature, giveaways and web support. In addition, you are able to use the Sika logo to boost your business profile.
Apply to contractor scheme
Apply to become a registered Sika Waterproofing contractor by filling in our online form.
This scheme is based on certain key performance indicators (KPIs), which will influence Sika's decision to award and/or continue any registered contractor agreement. This will include a minimum annual spend on Sika Waterproofing products.
Please note:
Sika has the right to refuse any application based on the criteria submitted or any further information post-application.
To successfully submit your application the following is a checklist of required items you need to include when submitting your application:
Health and Safety policy
Quality Policy
Training Policy
Environmental Policy
Public Liability Insurance Policy
Professional Indemnity Insurance Policy
Application administration fee – £180 (inc VAT) – Non Refundable (This can be made by cheque or BACS)
If you would like to discuss any aspect of this scheme prior to application please contact us at waterproofing@uk.sika.com.
Payment details
BACS payment details are Account Name: Sika Limited, Account No: 12735083, sort code: 18-50-08.
Please use Sika RWCS along with your application reference number as your transfer reference. eg Sika RWCS 01.
Post cheques to Sika Limited, Watchmead, Welwyn Garden City, Al7 1BQ. Please mark for the attention of Sam Abernethy. Please write on the back of the cheque 'Waterproofing Registered Contractor Scheme' along with your application reference number, eg Sika RWCS 01.
Your application reference number can be found on the confirmation email you receive after an application has been submitted.
Need Help?
If you have any questions or problems completing the form – please call our Waterproofing Support team on 01707 394444 or email waterproofing@uk.sika.com.